Gold plated tungsten in a Russian bank
Central Bank discovers gold plated bars at the Admiralty Bank
Gold plated bars with tungsten cores have been discovered by investors, reputable dealers and precious metals refineries. The risks from inside the global banking system remains unknown due to inadequate external auditing against the widespread storing of precious metals to support banks' assets and reserves. However, a recent report from Russia reveals Central Bank auditors discovered a bank with a vault containing gold plated bars. A translation of the original Russian news article follows.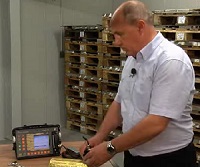 The Russian Central Bank has stripped the Admiralty Bank of its regulatory permits after two audits, which included the banks precious metals holdings. A source informed Banki.ru that the regulator found Admiralty was declaring the value of gold plated bars as genuine bullion.
According to Admiralty's statement of liquid assets, gold bullion holdings amounted to 400m rubles (US$8m) at August 1 2015. Consequently, during the course of audits, the regulator questioned the availability of the bank's precious metals holdings and found bars to be gold plated.
Another source told Banki.ru that shortly before the Admiralty Bank was shut down, corporate customers were offered an option to withdraw funds from their accounts with a transaction commission of 30%. On September 7 the Central Bank disabled the Admiralty Bank's access to the electronic payment systems with the Bank of Russia (BESP).
The Admiralty Bank was the 289th largest bank in Russia in terms of assets. For the statement of August 1 the total amount of bank assets was just over 8 billion rubles. Monthly turnover of cash transactions was between 40 – 55 billion rubles, and customer account transactions were 35 billion rubles.
The bank's balance sheet was poorly diversified according to analysis by Banki.ru. Two thirds of the assets of Admiralty were in primary corporate loans. The level of loan delinquency was at 7%, and the provision for collateral against loans stood at 74%. The remaining assets were described as liquid.
One of the reasons why the Central Bank revoked the license was because Admiralty had insufficient reserves to cover potential losses from unpaid loans. At the time of publication Banki.ru news had received no comment from the Central Bank regarding the closure of Admiralty Bank.