Global Piracy and Counterfeiting Press Statements
Global Piracy and Counterfeiting Consultants Warn Investors about Fake Bullion
The Global Piracy and Counterfeiting Consultants (GP-CC) operates under the umbrella of Americas Watchdog, one of the best known consumer advocacy groups in the United States.
GP-CC is focused on combating world wide piracy and the counterfeiting of products and intellectual property. They are warning precious metals investors that China has flooded the world with counterfeits, and that fakes are becoming increasingly more sophisticated and difficult to detect by traditional methods. This has become an enormous threat not only to the precious metals investor, but also to the fabric of wealth preservation in society.
Safeguard your investments. Buy gold and silver bullion from trusted sources and conduct your own independent testing using ultrasonic detection technology.  Non-destructive ultrasound gold and silver authentication is simple, affordable and convenient.
GP-CC Press Statements about Counterfeit Gold and Silver Investment Products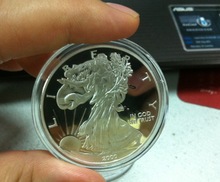 "We think owning precious metals is a very smart investment strategy, as long as it does not include a counterfeiter from China."

"10% of China's GDP is counterfeiting, and according to our research Chinese counterfeiters are flooding the US, and Europe with very high quality fake US silver dollars, gold coins, gold bars-you name it"
"One Chinese counterfeiter openly has bragged about producing over 1,000,000 U.S. silver dollars"

"We fear this Chinese counterfeit gold, or silver coins, or bars, could be a multi billion dollar a year business, and we greatly fear many innocent investors could be taken to the cleaners."

"Apparently, many of the Chinese counterfeit is of such high quality coin dealers, or experts have to weigh, and use various high tech testing methods to determine if the coin, or precious metal is legitimate."

What chance does your standard investor have-if the Chinese counterfeit US silver dollar, or gold coin looks right, and weighs the correct amount? We are calling this a huge economic disaster just waiting to happen for innocent investors attempting to diversify their investment portfolio's."

"When we say high quality Chinese counterfeit silver, or gold coins we are as serious as a heart attack."

"Does anyone really think Chinese counterfeiters would have any problem selling an investor a counterfeit U.S. silver dollar, a fake Krugerrand, or an American Eagle gold coin? The answer is no, the Chinese do not appear to have any issue with flooding the world with counterfeits, regardless of the damage they cause. We urging precious metal investors, or coin collectors in the United States, and around the world to be extremely selective with who you do business with. With the recent highs, and lows in gold, or silver prices, we actually anticipate the Chinese involvement in counterfeiting of gold, or silver coins, or precious metal bars to get much worse."

"What concerns us the most about Chinese counterfeit precious metal collectible coins, such as U.S. silver dollars is once they get into the food chain, they will be around for a very long time, even if China were to crack down on precious metal counterfeiting operations today. Unfortunately, the damage is already done."

"Our new worry is pretty obvious related to Chinese counterfeiters bankrupting innocent precious metal, or coin investors, with what could be their life savings. At what point do consumers in the United States, Europe, Japan, or the rest of the world say no thanks to any more Chinese products, given its uncaring attitude about flooding the global markets with counterfeits, or fakes?"