Fake Chinese Gold Bars and Silver Bullion
Inside a Chinese Counterfeit Bullion Factory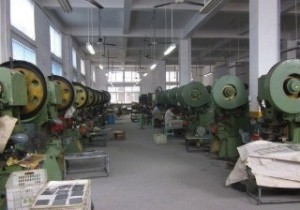 A television news crew from Channel 7 Australia went to China to investigate the burgeoning counterfeit bullion industry. At one of the "forgery factories" in Wenzhou, China, the journalists were shown how fake Perth Mint gold bars are being manufactured.
Your future could be at risk if Chinese replica gold and silver investment products end up in your portfolio.  The most secure investment option for the astute investor is to purchase gold and silver bullion from reputable dealers and independently verify them with the affordable and simple to use ultrasonic detection meter.
COUNTERFEIT AUSSIE GOLD SOLD IN CHINA
Mike Duffy, 7News, Updated October 22, 2012, 7:13 pm
An Australian mint has called in the Federal Police after being shown evidence by Seven News that its gold bars are being counterfeited.
The investigation uncovered Chinese 'forgery factories' that will churn out fake bullion and even Australian coins, for a fraction of their face value.
Just one of the bars should be worth more than $1700.
"There are some poor people out there who have gone and bought these products thinking they've got a bargain and have actually been ripped off," Ron Currie from the Perth Mint said.
At Wenzhou, in China's south east, a suspicious discovery is made after taking a tour of one factory that makes medals and badges – there are thousands of samples.
On the front is stamped "Perth Mint Australia", on the back are kangaroos – a close copy of the actual design used by the mint.
The worker doesn't hold back when quizzed about the procedure.
"First we did the silver plating, then the gold plating," he said.
What should be valued at $510,000, is actually counterfeited gold bars that Seven News paid $300 for (300 pieces at $1 each).
Mr Currie says while the number reaching Australia is relatively small, the damage can be significant – but there are tell-tale signs.
"If it looks like a deal that's too good to refuse – you should refuse it. Secondly the quality – the quality is nowhere near as good as the real product," he said.
"We'll of course follow it through and take it up with the Australian Federal Police.
"The Australian Federal police are very helpful and are very interested in stopping counterfeits or copies coming into Australia."
China has long forged Western products, but this is altogether different because it has the potential to do so much harm.